It's our concern to teach your child a fun and pressure free way of swimming. The element water offers a great possibility to improve their actionpotential and coordination. In our programm we focus on confidence and safety in the water which is base for all wateractivities.
Our motto:
With fun from diving to swimming!
managing director:
Mag. Marielouise Giffinger
I am mother of two children and work with chirlden for several years! I love to work with posivite motivation and show children that the element water is great to float, swim and dive! Fun and laughing is important to learn swimming in small steps!
2008 – 2010 Master of Sportscience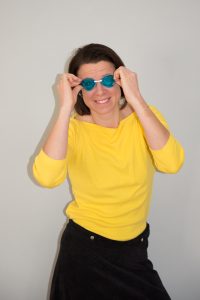 2002 – 2008 Bachelor Sportscience ( Focus: Health, Competitive Sports)
additional education:
2022 systemic coaching for children and adolecence
2020 systemic coaching
2020 strength training for seniors
2019 strength training for children and adolecence
2008 Swimtrainer an der BSPA Graz
2008 Sportstrainer BSPA Wien
2006 Swimming Instructor BSPA Linz
lecturing:
seit 2018 an der Flexyfit Sportsacademie
seit 2017 am Zentrum für Sportwissenschaft und Universitätssport